May
29
Join us for the Riverlake Greenway Grand Opening Celebration!
Saturday June 11
3 to 4 pm: Kingfield, MLK Park – E 40th St & 1st Ave S
* Bicycle decorating, bike walk parades, and youth bike rodeos!
There will be family friendly events and activities along the entire bicycle boulevard from the Mississippi River to Lake Harriet, 1-5 pm.
May
26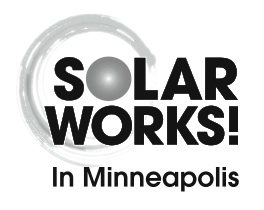 Solarize Kingfield is a solar installation program for local businesses and institutions, led by the Kingfield Neighborhood Association. We help businesses and institutions interested in installing up to 40 kW solar electric systems to simplify the process and reduce the cost of adding solar.
If you own a non-homesteaded building in or near Kingfield (commercial, nonprofit, or institution) and are interested in exploring a solar electric installation, let us know by emailing your building's address and your contact information to sarah@kingfield.org, as soon as possible. Solarize Kingfield will pay for the solar assessment (typically $250-$400) and reimburse the cost of the required on-site energy audit ($400-$500 depending on building size) for participating building owners.
If you missed the May 24 workshop you can view it, and a number of resources and funding opportunities here. 
This work is supported by a grant from the City of Minneapolis.
May
24
As you know, North Minneapolis was struck by a devastating tornado yesterday. The Neighborhood and Community Relations Department will provide updates to neighborhood organizations over the next few days to keep you informed of recovery efforts and what your neighborhood organization can do to help.  Please check the City's website at http://www.ci.minneapolis.mn.us/, or call 311, for detailed information. Read more
May
24
Join MPS to develop solutions to enrollment increases in both Area B and Area C.
Information on two separate meetings is attached. The June 6th meeting, 6-8 PM, Ramsey School is related specifically to increased enrollment in Area C Middle Schools.
EnrollmentMeetings flier Hiawatha_Ramsey
May
22
It's the last week to be counted in the Minnesota Arts Count census! The census ends May 31. Whether you take art classes, sing in a choir, act, write, paint, sew, weave, draw, play music, or dance; whether your art is a hobby or a profession, please participate. The legislature has requested this arts census and it's important to accurately show the large number of people in the state who participate in the arts.
Visit www.mnartscount.com to take the three-minute survey. After you have taken the short survey, please ask five other arts participants you know to take it as well.
Thank you for all that you do to support the arts!
Sincerely,
Mara Miller
Communications and Events Coordinator
Metropolitan Regional Arts Council
May
21
KFNA is working with businesses to locate racks (at 50% off!) at many local businesses: Sunstreet Breads is one of the businesses locations that will be receiving new racks this summer.  Thanks to a Federal Grant we have finally received a beautiful NEW RACK at the Kingfield Farmers' Market too!
May
21
The 40th Street Pedestrian Bridge is getting minor re-do paid for by the city.  The main concern was the way the bridge dumps out onto 2nd avenue.  A public meeting was held and we were able to work with Bryant neighbors to influence the bump-out design on 2nd Ave so it can be used by folks biking on both sides of the street (into and off of the ramp).  Additionally, if the side-by-side pedestrian bridge ever does get built, there will be a bump-out for that other bridge to end at already in place.  This bumpout should also help to slow motorists through this intersection. 
TLC is targeting Kingfield for a Mode Shift Campaign this summer—8 neighbors have already expressed interest in working on this.  The first meeting is May 31, 6 PM, MLK Park.  All are welcome to join us at this initial meeting!
RiverLake Greenway Opening is Saturday June 11—Kingfield is hosting a bike decorating station and partnering with another organization to offer a bike obstacle course.  We are looking for volunteers from 3-4 PM to staff a Bike Decorating booth on June 11.  We are also looking for volunteers in the days BEFORE June 11 to brainstorm a 40th Street Pedestrian Bridge decorating project and to implement it!  Contact sarah@kingfield.org or 612.823.5980 to volunteer to participate in either activity!
Blaisdell and 1st Avenue Bike Lanes will be built this year—a grand opening along this lines of the RiverLake Greenway one (multi-neighborhood, organized by the City) will towards the end of the project.
Bike Racks: KFNA is working with businesses to locate racks (at 50% off!) at many local businesses: Sunstreet Breads and Blackbird are two of the businesses locations that will be receiving new racks.  Thanks to a Federal Grant we have finally received a beautiful NEW RACK at the Kingfield Farmers' Market too!
Ciclovia, otherwise known as Open Street Minneapolis, is Sunday June 12, 10 AM-2 PM from 22nd to 42nd Street on Lyndale—this biking/pedestrian  event will block-off Lyndale from car traffic.  By opening up the streets for people to walk, bike, run and skate for a day, we get an opportunity to experience our city in a whole new way. 
Cyclomaniacs: It seems there's a summer camp for just about every sport, except for youth cycling. To fill that gap, a grassroots cycling club started in South Minneapolis two summers ago.  Take a bunch of kids, a handful of parents, our second-to-none trail system, and you've got a summer Friday that's hard to beat!  A different 16-22 mile route is established for each week, with a fun food destination spot in the middle.  Rides usually start around 10am and finish about 2pm. Most depart from Lake Calhoun or Lake Harriet, with stops made along the way to pick up riders choosing abridged routes. There's no cost to participate, other than your own wheels and treat money at the destination point. A website is being planned, but until that is up and running, contact Angela Gustafson at angela@ootbooks.com with questions or to be added to the email group list.
For more information visit http://kingfield.org/transportation/.  If you have questions on any of these or want to volunteer contact Sarah at sarah@kingfield.org or 612.823.5980.