Coming to mailboxes soon but you can read it online now!  http://kingfield.org/newsletter/
All hail the new queen(bee) as she begins her reign over a new hive in Kingfield!  Fortunately, Queen Lily survived the Minnesota winter and looks to have a healthy start to a new year of pollinating plants in our neighborhood.  Sadly, Queen Amelia was not so lucky… so stop by the Kingfield Neighborhood Association table at the Kingfield Farmers Market today, help us name the new queen and take a pledge to help our wonderful pollinators!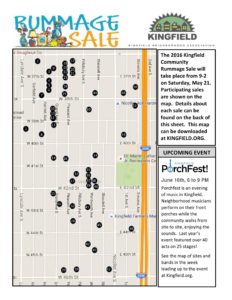 There are 51 registered rummage sales to be found in Kingfield on Saturday. Maps will also be available at Butter Bakery Cafe, ColorWheel Gallery, Curran's Restaurant, 36th & Lyndale, Royal Grounds Coffee and Nicollet Ace Hardware.