Light It Up, Kingfield!
December 6, 2021 @ 5:00 PM

-

7:00 PM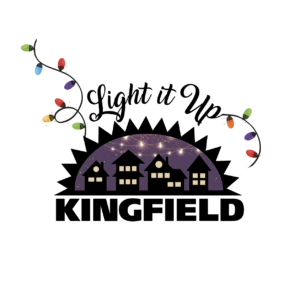 Monday Evenings in December (Dec. 6th, 13th, 20th, & 27th) 
5-7 PM 
This December, Kingfield neighbors are once again invited to illuminate the neighborhood and get outside to enjoy winter, fight the darkness, and increase community safety by building community!
Be part of the fun! Light up your front yard on Mondays in December from 5-7 PM and encourage your neighbors to do the same! Create a walk of wonder through our Kingfield Streets. Light a luminary, drag the fire pit to the front yard, string the holiday lights…the dark is here and together we will keep it at bay!
Build community! Consider making luminaries for your neighbors (or with your neighbors!) at one of our Luminary Workshops hosted at Butter Bakery. Then simply bundle up and invite your neighbors for a walk through the streets to enjoy the glow or invite them over for a bonfire, hot cider, and marshmallow roasting in your front yard!
Gathering outside in front yards, connecting with neighbors, and enjoying the lights of the season are the perfect antidote to concerns many neighbors have right now about personal safety, the long winter, and the continuing pandemic. Let's get through this together by being present in our community, showing our support for one another, and lifting each other's spirits!
Need some help? We have workshops! 
Luminary supplies, templates, and friendly assistants will be at Butter's Community Table, 3700 Nicollet on Thursday December 2nd, 9th, and 16th from 3:30-5:30 PM. Come meet KFNA and craft with your community. We will also be working to fill Butter Bakery's big storefront windows with hand-cut snowflakes, sent off into the world with your own special message of hope for the future!
Email if you are planning something special in your yard or on your block and would like KFNA to help spread the word for other neighbors to come wander through your wonderland of lights! Last year Kingfield neighbors showed their creativity by hosting front yard taco and bonfire parties, delivering ice luminaries to everyone on the block, and caroling at neighbor's homes that didn't want to come out and brave the cold. Let's continue the fun and community building in 2021!
Brought to you by the Kingfield Block Contacts, working to build community and connect neighbors. To join the Block Contact Group just sign up here! Or contact .