Art Connecting Kingfield
Kingfield is a neighborhood full of artists, and KFNA projects use the power of art to connect neighbors, prevent graffiti, enrich our environment, and share our history.  To get an overview of KFNA's visual public art projects over the past decade, view this presentation, which was created in April 2011 for the Minneapolis Public Arts Commission: Community Art Presentation 2011
Current Projects:
Request for Images for "Thinking Outside the Box"; a Utility Box Wrapping Project in the Kingfield Neighborhood, Minneapolis
Call for Artists: Pop Up Public Art (PUPA) Project
Annual Projects:
Kingfield Empty Bowls, an annual February event!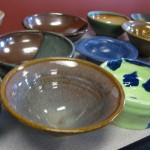 Eating for Art : Filling Our Bellies and Our Community with Art since 2008.
Past Projects:
40th Street Gateway: Welcome to Dr. Martin Luther King Park
40th Street Gateway Mural: Welcome to Kingfield!
April Foolishness: Community Art Show 2011
Thinking Out of the Box: Community Art Show 2010



Living Art, Community Art Show 2008
Art To Di For, Community Art Show 2007
Art is the Key, Community Art Show 2006
SPEAK Project with Phoenix High School at Nicollet Square
Yarn-bombed pedestrian bridge