Dec
5
The Free Super Saturday Program at InnerCity Tennis is a fantastic way to spend time as a family. The Saturday Program will start up again this Saturday December 6th. Level 1 (age 3-6) and Level 2 (age7-10) starts at 3:00 and ends at 4:30. Level 3 (age 11-13) and Level 4 (age 14-18) starts at 4:30 and ends at 6:00. For more information click on the link http://innercitytennis.org/youth/super-saturdays
Volunteer as a family and help coach hundreds of young children through the Kidspeed Stations. Please sign up here if you want to volunteer as a family. http://innercitytennis.org/volunteer
This will be the perfect opportunity to checkout the new bubbles if you haven't seen them! (Hint Hint!)
Dec
5
While you are out shopping this weekend, please consider picking up something extra for those in need.  The Aliveness Project needs donations of new gifts for their Holiday Basket Program for HIV+ people, including these specific items (new only, please!):
– Long-sleeve shirts for men (especially need medium size right now, but any size can be used)
– Small household appliances and silverware sets
– Gloves and hats for men
– Gifts for teens
– Long underwear for any age
– Gift cards
Please drop your gifts (unwrapped) off at The Aliveness Project, 3808 Nicollet Avenue, 9 am-5 pm, Monday-Friday.
You can also sign up to adopt or deliver specific baskets at:Â http://www.aliveness.org/holiday-basket-program-donor-volunteer-form
Also a special request: The Aliveness Project must raise $1600 to reach greater MN members this holiday season!  The Aliveness Project needs $1600.00 to cover the shipping costs to be able to deliver the Greater Minnesota holiday packages for 170 patients and their families living with HIV/AIDS. They are short this year; Teamsters are donating labor and supplies, and UPS is giving a discount, and they both have volunteers personally delivering the other packages for those living in the 11 county metro. Donations to the Aliveness Project for the MHP Greater MN Holiday Care Packages are tax-deductible. Donations in any amount could be made in person or via Mail to: The Aliveness Project, 3808 Nicollet Ave So, Minneapolis, MN 55408 with note or memo: MHP (MinnKota Health Project) Greater MN Holiday Care Package Shipping.
Dec
5
Saturday & Sunday, December 6th & 7th, 2-8 PM, 46th and Grand
Come & Support our Local Artists while you shop for Fun & Funky gifts in a Comfortable & Interesting Atmosphere with Cool Art, Sweet Treats, Community Networking & Conversation. 2 day opening reception featuring Art by Tammy Ortegon, Gordon Coons, Eileen Connor, Edoardo Ortegon, Eileen Espinosa & Fantasticl Jewelry by WreckCycled, Ixmukane Accesories, Paulina Jacobsson & more!
Saturday Dec. 6th, 4:00-6:00 PM: Treat yourself to a Chair Massage by Cynthia Reuss, Massage Therapist specializing in deep tissue massage and trigger point therapy. She will be charging $1.oo a minute that she will be will be donating to a Local Food Shelf. Work out that Holiday Stress & move more Gracefully into the New Year!
Sunday Dec. 7th, 2:00-8:00 PM: We are Happy to have "Herban Vagabond Apothecary" join us with her cabinet of curiosities, enchanting elixirs, and decadent herbal delights from the heart of Mother Earth! All products are made with love by Powderhorn Community Herbalist Jessica Belden
Stop back to the ColorWheel on Sunday December 14th 2:00-6:00pm for a FREE Artist Talk & Art Workshop with Gordon Coons! Bring your Family & Friends to Create a Ojibwa Woodland Art Style, linoleum block print.
Dec
4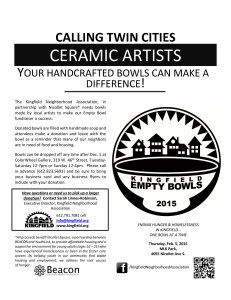 Handmade Bowls + Handmade Soup = Kingfield Empty Bowls, an event to build community and raise funds for NICOLLET SQUARE, providing housing and resources for 42 formerly homeless youth in Kingfield, managed by Beacon Interfaith Housing Collaborative.
We are looking for ceramic artists that would be willing to donate bowls for the event, which will take place on Thursday, February 5, 2015. Please read the flyer to the left for more details.
Questions? Call Executive Director Sarah Linnes-Robinson at 612.791.7081
Dec
3
KFNA is looking for looking 2-3 additional sites in Kingfield to be, on a yet to be determined date in December, a "reverse caroling" site!
Reverse Caroling, you ask, what is THAT?   We are seeking households with a musical bend willing to stoke up the fire pit and hang out in their front yard singing holiday songs and possibly playing instruments on a yet-to-be-determined evening. KFNA will publish a map of the locations and encourage neighbors to walk to one or more of the homes to sing along as "reverse carolers"!
No date has been determined but we are thinking a weekday evening, not a weekend…..
Contact Sarah Linnes-Robinson, KFNA Director, at sarah@kingfield.org if you are interested in hosting a caroling site!
Dec
2
Thanks to incredible community support and an increase in community policing, Minneapolis has once again grabbed the trophy for top National Night Out (NNO) city in the country. It is the city's 3rd year in a row topping the charts nationwide.
1,484 events were registered for NNO in 2014 ([including 51 in Kingfield alone!], setting a record on our City streets the night of August 5th. Attendance totaled more than 74,000 and more than 23,500 of them were kids and young adults. All told, 19% of Minneapolis' total population participated in the celebration and 100% of city's 83 residential neighborhoods participated this year.
"Our communities and block club leaders realize what a tremendous honor this is for our City. Our Officers and Crime Prevention Specialists certainly do. The numbers prove that we have a very strong partnership with the neighborhoods that play a huge part in helping keep our streets safe," Minneapolis Police Chief Janeé Harteau said.
Dec
2
Today (12/1/14), at our "budget markup" meeting, the council approved on a close 7-6 vote a .18% property tax decrease (for a $180,000 home, we were told the savings would be approximately two dollars and fifty cents). I argued against this motion (and voted against it) for the simple reason that the small property tax savings were not worth the harm to critical investments, as well as creating a "budget hole" that will create challenges in future years.
What was cut to achieve this average savings of about $2.50? Our commitment to our Nation's first clean energy partnership (a commitment leveraging significant staff and resource contributions from our partner utilities), diverse homeownership support and foreclosure prevention for communities of color, depleting the One Minneapolis Fund targeted to support leadership development in communities of color, and cutting in half our support for the disparities study that forms the legal basis for setting race-based goals for business inclusion in worker inclusion goals.
Barely saved, on another 7-6 motion, was one of the new equity positions within the city coordinator's office. We have similar enterprise support positions in other key goal areas of the city, such as sustainability and the arts, and they have been highly effective in driving city-wide results and leveraging outside partnerships.
I am most concernedt that 7 of my colleagues voted to reduce our commitment to the Clean Energy Partnership – especially since this was one-time funding that will have no impact on the property tax levy. This investment would primarily be for designing and implementing programs to serve residents in Minneapolis. One of the highest on the list, in my mind, is how we address energy issues (and costs) at multi-unit residential buildings. I am hoping we can look for a solution on this item before the final budget approval of December 10.
More details are here:Â http://www.minneapolismn.gov/meetings/budgetsub/WCMS1P-130547